This is a guest post by habibi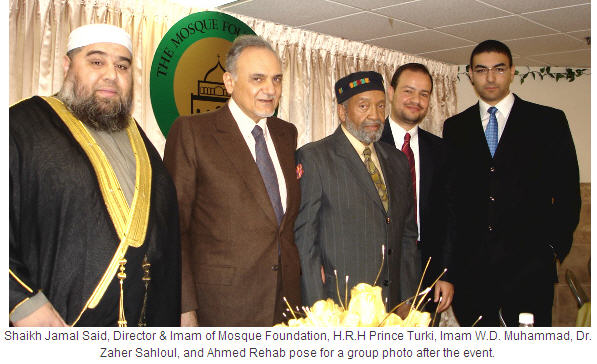 This week Ahmed Rehab of the Council on American-Islamic Relations (CAIR) will speak at three Scottish Islamic Foundation (SIF) "Belief in Action Tour" meetings in Aberdeen, Dundee and Kirkcaldy. This Sunday he will also appear at SIF's National Conference – Scottish Muslim Futures. That event's sponsors include the Scottish Executive and Strathclyde Police.
Ahmed Rehab is an Islamist spinner who goes out of his of his way to defend extremists, in representative service of a core CAIR mission.
Have a look at Rehab in this news clip. He has this to say of Jamal Said:
"…Jamal Said, who I know personally as a great American faith leader and not a radical imam as the Wall Street Journal falsely stated"
He is referring to this article, which covers the resignation this summer of Chicago lawyer Mazen Asbahi from the Obama campaign.
Rehab offered similar words on Said here:
"Of course, Said is not a fundamentalist. He is in fact a cornerstone of the Chicago Muslim community.

The Mosque Foundation, where Said works, is a noted contributor to Chicago's civic life. It is an active participant in Department of Homeland Security round-table discussions."
Jamal Said is the imam of the Bridgeview mosque in Chicago. He is also a radical. If he really is a "great American faith leader", then Ahmed Rehab must be a banana.
This in-depth article from the Chicago Tribune tells part of Said's and the mosque's story. It is a sad tale of down-to-earth, hard-working immigrants to America losing control of the place of rather relaxed worship they founded to hard-core Islamists. Using Muslim Brotherhood cadres and funding from Saudi Arabia, the radicals turned it into a temple of intolerance and hatred. Anyone interested in the development of Islamism in the US would do well to read the whole article, which captures a number of the broad trends in one mosque's history.
Here are a few quotes.
Said, a Palestinian who studied Islam in Saudi Arabia, became the mosque's prayer leader in 1985. For him, Islam was conservatism, separatism, and anger:
Many at the mosque were already familiar with his views. As a guest speaker several years earlier, he had given a memorable sermon in which he criticized the mosque women for not dressing modestly.

As prayer leader, he preached that America was a land of disbelievers, where families were not valued, according to mosque-goers. He told worshipers that they should not celebrate Valentine's Day and Thanksgiving because those were not Islamic holidays. He told teenage boys and girls not to mingle.

Over time, Sheik Jamal developed a national reputation and easily attracted prominent Muslim activists to Bridgeview.

Abdullah Azzam, Osama bin Laden's spiritual mentor, visited the mosque in the mid-1980s as part of a national tour to recruit supporters for the U.S.-backed Afghan war against the Soviet Union. At least three Bridgeview men signed up.

Sheik Jamal also raised money with skill, collecting as much as $1 million in a year from worshipers. Most of the money was passed along to Muslim charities, which then sent it overseas, according to the mosque's annual reports.

His congregation was most willing to contribute to Palestinian causes. Many worshipers felt that America blindly supported Israel and ignored the plight of Palestinians. Some had fled the fighting or lost relatives in the ongoing conflict.

For many Palestinian Muslims throughout the world, the battle for a homeland had changed from a secular movement to an Islamic one. Sheik Jamal tapped into that philosophical switch, preaching in support of Palestinians.

He raised money at one national Islamic conference by asking people to donate in the memory of a Palestinian suicide bomber, according to his speech in 2000, taped by terrorism researcher Steven Emerson and translated by the Tribune.
One man went beyond rhetoric and fund-raising and ended up spending several years in an Israeli prison:
One of Sheik Jamal's fellow mosque leaders, Muhammad Salah, drew scrutiny for his Palestinian fundraising activities. In 1993, while part of the mosque's eight-member executive committee, Salah was arrested at a Gaza Strip checkpoint and accused of financing Hamas military operations. He was sent to an Israeli prison for five years.
A decade later, Salah got to to know the American prison system as well. On that occasion, CAIR's Chicago chapter – Mr Rehab's chaper – issued an "action alert" urging people to attend his sentencing that included this line:
"The defendants are neither terrorists nor criminals for having supplied charitable aid to the most vulnerable factions of their occupied and war-ravaged country of origin, Palestine."
A twice-convicted criminal is not really a criminal? OK, CAIR Chicago, sure, whatever you say.
Turning back to the 1990s, by the end of the decade the FBI had taken a keen interest in the Bridgeview mosque, according to the Tribune. However, like those of some of their peers in the UK in those times, the agents' efforts hit political buffers, and only the shock of September 11 drove their masters to order tougher action:
Agents wanted to investigate the mosque itself, viewing it as a "gold mine" of information that could help their inquiry into terrorism financing, recalled Mark Flessner, the former prosecutor who led the investigation. But higher-ups at the Justice Department rejected probing the mosque. "The department was afraid of political controversy and backlash from Islamic groups," Flessner said.
Still, the government took several steps. A Chicago grand jury started hearing evidence about alleged Hamas fundraising. The government designated Salah a terrorist, seized his money and filed a lien against his home. Authorities also seized the bank accounts of the Oak Lawn religious group where Salah worked, the Quranic Literacy Institute, founded by Hammad, the former mosque prayer leader.

But no criminal charges were filed, and the investigation stalled. Only after the Sept. 11, 2001, attacks did the government's interest in Hamas–and mosque leaders–pick up.

The grand jury investigation restarted, and the FBI reinterviewed mosque members, asking about Salah and others.

Federal officials also closed three Islamic charities operating near the mosque that were suspected of aiding terrorists. All three received donations from the mosque, and the head of one of the charities was a mosque director. No criminal terrorism charges were filed against the charities.

The government prevented another mosque director from returning home from Jordan. Authorities said that he was a security risk and that the south suburban organization he headed, the Islamic Association for Palestine, was part of Hamas' propaganda wing.
However, Jamal Said and his crew remain in charge, leaving only bitterness to some families who worshipped at the mosque in its early days:
Most of the Beitunia immigrants who had dreamed of their own mosque are now gone. The congregation's first prayer leader, Khalil Zayid, worshiped there until he died in 1988. He was never allowed to lead prayers at the new mosque.

Many of the early leaders' children attend other mosques or pray at home. Leila Diab, the daughter of a founder, rarely prays in Bridgeview. She said she tried to meet with Sheik Jamal several years ago, but he insisted that she cover her hair, and she refused.

"This face of Islam is not representative of Islam," she said. "It is very detestable to me."
This is the handiwork of a man Ahmed Rehab of CAIR calls "a great American faith leader and not a radical imam".
Should readers be interested, here is another long article (New York Times, 1995) on the 1990s Chicago Islamist scene and the Bridgeview mosque. An excerpt:
Last December, about 5,000 people packed the Hyatt Regency hotel in downtown Chicago for the annual meeting of the Muslim Arab Youth Association. Midway through the meeting, a speaker suddenly announced that a Palestinian policeman had bombed a Jerusalem bus, killing himself and wounding 12 Israelis.

"Allah Akhbar," roared the crowd, offering spontaneous praise.
Lovely.
And another – evidently Muhammad Salah had company:
During the last three years, Israeli police have detained six members of the mosque, including Mr. Jarad, while they were visiting the occupied territories. The Israelis have accused the mosque's leader, Sheikh Jamal Said, of being a senior Hamas official in the United States.
Radical? Nah.
By the way, Jamal Said, like CAIR itself, was one of the un-indicted co-conspirators in the Holy Land Foundation (HLF) terrorist funding trial, that ended this week in a wave of convictions. Said is listed under "members of the US Muslim Brotherhood's Palestine Committee and/or its organizations". As for CAIR, note that an FBI agent had this to say at the HLF trial:
FBI Special Agent Lara Burns was going over more transcripts from the Philadelphia meeting — the 1993 gathering of Holy Land officials and Hamas sympathizers that the government contends was meant to brainstorm ways to downplay the Foundation's extremist ties — when talk turned to a passage from defendant Shukri Abu Baker.

He is quoted on the wiretap transcript talking about how it would be beneficial to have more traditional, secular American organizations to help spread the Islamist message.

He and others envisioned an "alternative" organization "which can benefit from a new atmosphere, one whose Islamic hue is not very conspicuous," he said according to the transcript.

Prosecutor Barry Jonas asked Burns whether any groups formed after the Philadelphia gathering fit this mold. "CAIR," she said.
Yes, that's the game.
Perhaps the worst of Ahmed Rehab, like some other Islamists covered by this blog, is to be found in his student days. According to investigative journalist Steven Emerson, Rehab was keen on defending David Irving. Back then, he posted an essay entitled "Double Standardism: The Case of the Two Books," on his Tripod web pages – now sadly vanished, but still available in the wonderful Web.Archive – in which he considers "books that "demean the reality" of the Holocaust (i.e.: disagree with the established opinions of the able Jewish historians regarding the details of the holocaust)" – and compares them with the defence of Salman Rushdie's "Satanic Verses. The article discussed a May 1996 Charlie Rose show that featured a debate about St. Martin's Press' withdrawal from a contract to publish a biography of Nazi propaganda minister Joseph Goebbels.
Impressively,  Rehab halved the number of Jews slaughered by the Nazis:
"Rushdie targeted a world-wide religion, 1300 years of history, and one billion people," Rehab wrote. "Irving targeted a historical event, 2 years of history and three million people."21
He continued:
"If the Jewish historians have the right to research the history of the Holocaust and dictate it for schools and Universities, why can't other historians do the same even if their findings are different? aren't they less likely to be biased and non-objectively sympathetic?"22
But here's the coup de grace:
He even ended the show by launching two strict questions at the columnist in the manner of an authoritative judge holding a criminal on trial, asking whether or not he supported the views of Irving (the book's author) and whether or not Irving managed to change any of his views. The columnist answered a hesitant and weak "no". By that, Rose confirmed the Jewish control over the media.
Anyway, I am sure Osama Saeed will find Rehab's input very useful. What a shame so many others in the UK are most unlikely to understand the significance of this tour: especially those in authority, who should be the first to spot it.
Poor Scotland. As a Unionist, I'm with you. London does little better on these issues, as you know. What can we do together to fight extremism?