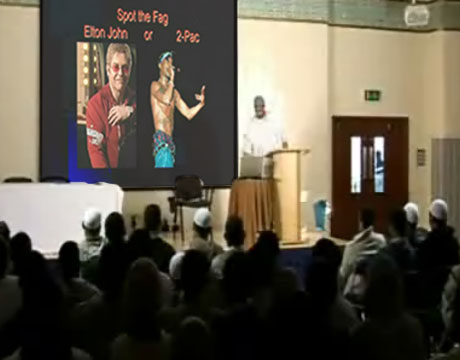 For good reason of course, there has been a lot of focus on the Islamist radicalisation and entryism around the East London Mosque (as exposed in Monday's Dispatches on Channel4), so it is unsurprising that no one has yet made a fuss of the fact that obnoxious lectures take place there inciting hatred of the gay community – as seen in the image above.
So let me be the fist to kick up a fuss.
The slide on the screen has a picture of openly-gay singer Elton John next to a very butch-looking Tupac Shakur. The presenter tells the audience:  "This is a little game I like to play called 'Spot The Fag'."
He then launches into a rant about the 'fag' lifestyle.
Had a lecture of this nature been hosted at a Christian or Jewish venue of similar stature and profile, there would have been an outcry, particularly if it had included an obnoxious audience participation game called "Spot The Fag""
Apologist will of course point out that both mainstream Christianity and Judaism have their fare share of homophobes. This is indisputably true. The Alpha Course started at Holy Trinity Brompton, for example, has come under heavy fire for it's homophobic components. But I doubt even they would be so crass as to play a game of "Spot The Fag".
There would quite rightly be a complete freakout if a mainstream religious venue hosted a BNP-sympathising vicar with a PowerPoint presentation called "Spot The Nigger". Or how about some neo-Nazis at doing "Count the Kikes" at Westminster Abbey.
Racism is robustly confronted. Even antisemitism has its limits. But it seems there really is nothing so homophobic that otherwise liberal-minded people won't ignore it – particularly if it isn't coming from the lips of some old Tory colonel or an Archbishop.
So "Spot The Fags"? Um, not much of a problem. At a Mosque? Meh, no problem at all.
Both Prince Charles and Mayor Boris Johnson have stood on that same ELM podium recently. I wonder if they feel a little dirty.
UPDATE:
I found the full video of his speech – an hour-long mad rant – so here is the clip relevant to this discussion:
[media id=1]