This is a cross-post from the CST blog
The appearance of Labour leadership candidate Jeremy Corbyn MP at a hustings for the Jewish community later this month is likely to focus more attention on his reported remarks praising Hamas and Hezbollah. Corbyn will be speaking alongside the other three leadership candidates and, with the hustings chaired by Jonathan Freedland, he can expect some difficult questions.
These questions shouldn't stop at his support for Hamas and Hezbollah. As Alan Johnson has explained in detail, Corbyn's support for extremists with a record of antisemitic statements or activities is extensive. There is another example due next month: this conference that Corbyn is scheduled to speak at, organised by the Islamist lobby group Middle East Monitor (MEMO) on "Palestine & Latin America: Building solidarity for national rights".
I don't know what Corbyn plans to talk about at the MEMO conference. I don't expect him to say anything antisemitic – he rarely if ever does. But I do know that a prospective leader of the Labour Party should not be associating with MEMO, or with some of the other speakers at that conference, and that Corbyn does this kind of thing far too often.
MEMO has featured repeatedly on the CST Blog for peddling conspiracy theories and myths about Jews, Zionists, money and power. This has included questioning the suitability of Matthew Gould for the post of UK Ambassador to Israel simply because he is Jewish. MEMO also continued to spread the untrue story that the 'Innocence of Muslims' film was a Zionist plot to stir up hatred of Muslims, several days after it had been widely established that the film was made by Egyptian Christians. One MEMO article, titled 'How money from pro-Israel donors controls Westminster', was even praised by American neo-Nazi David Duke.
In 2009, when Channel 4's Dispatches aired a programme about pro-Israel lobby groups, MEMO illustrated their article about the programme with this image that implies Jewish or Israeli financial influence over the UK Parliament:
A reverse Google images search suggests that this image originated on the thoroughly antisemitic Radio Islam website. It has since become ubiquitous in extremist media and was used most recently by the neo-Nazi organisers of last weekend's 'anti-Jewification' demonstration in London:
Simply put, a Labour Party leadership candidate should not be going anywhere near an organisation like MEMO. Corbyn, though, has an association with MEMO going back several years. In 2010, Corbyn visited Israel and the West Bank on a MEMO delegation. It was MEMO who brought Sheikh Raed Salah to the UK in 2011, a visit defended by Corbyn even though Salah had made a speech in Israel in 2007 that used the antisemitic blood libel. Salah has since been found guilty of inciting a riot and inciting antisemitism on charges that MEMO denied existed. This was part of a pattern of dissembling and evasion from MEMO throughout Salah's visit to the UK.
Then there is the question of the other speakers at MEMO's conference. One Carlos Latuff, a cartoonist who regularly uses antisemitic imagery in his cartoons. Here is MEMO, just last week, using one of Latuff's cartoons that compares Israel to Nazi Germany and, just for good measure, reproduces the antisemitic trope of a Jewish or Zionist octopus:
In 2006, Latuff won second prize in Iran's grotesque 'Holocaust Cartoon Contest'. Simply the fact that he entered a competition designed to denigrate and diminish the Holocaust should have seen him permanently shunned in progressive or anti-racist circles. Instead, MEMO embraces him and Corbyn and others are due to speak at the same conference as he is.
Corbyn may be unaware that Latuff has been invited to speak at the MEMO conference; but it would not be the first time that he has associated himself with a cartoonist who thought that the Holocaust is something to make fun of. When Corbyn made his comments praising Hezbollah and Hamas as "friends" in 2009, it was at a Stop The War Coalition meeting in London at which he spoke alongside Dyab Abou Jahjah of the Arab European League. Three years earlier, Abou Jahjah had been at the centre of a controversy when the AEL, which he founded and ran at that time, provocatively published this Holocaust Denial cartoon: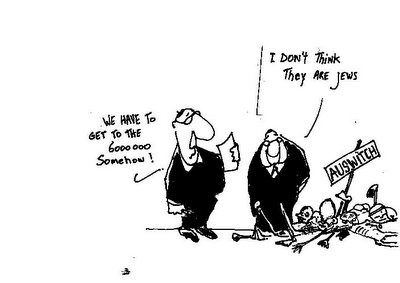 Abou Jahjah claimed that he was trying to highlight double standards in free speech, but a Dutch court found the AEL guilty of Holocaust denial nonetheless. Abou Jahjah was excluded from the UK after his appearance with Corbyn and claimed that Corbyn had filed a complaint on his behalf against the exclusion.
I am sure that Corbyn would be the first to condemn Holocaust denial. The problem is not that Corbyn is an antisemite or a Holocaust denier – he is neither. The problem is that he seems to gravitate towards people who are, if they come with an anti-Israel sticker on them. He is not alone in this. Corbyn and his supporters may well dismiss this as a cynical effort to deflect their criticisms of Israel, but they would be wrong to do so. Antisemitism is a serious problem and Islamist antisemitism can be deadly. Jewish concerns about this are sincere and urgent. Antisemitism isn't something that can be excused or ignored by politicians in pursuit of some supposedly higher political goal. Jeremy Corbyn needs to show the Jewish community that, if elected Labour leader, he won't bring antisemitism into the heart of the Labour party.